Placing your order with Homeware Essentials is easy!
Our stock availability is all live data on the website, so you can see if lines are available when you are placing your order.

Already have a Homeware Essentials Account?
We recommend logging into your account before you start your order.


New to Homeware Essentials?
Welcome!
You can browse the site and add items to your cart, but you will be asked to create an account at check out for your first order (there is some more information about first time ordering for new customers below).
We recommend that you set up your account before adding items to your cart in order to see any relevant delivery information for your specific location in your cart page area before you check out.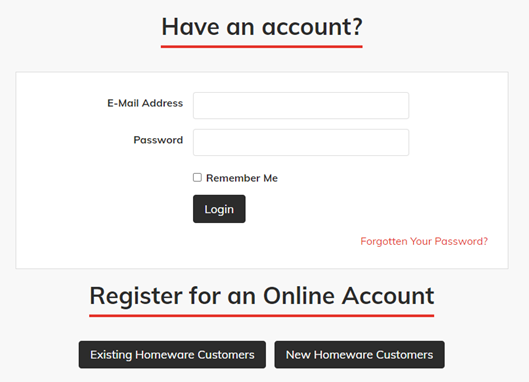 Browse our range and add items to your cart

Finding stock
Categories:
Our stock is broken down by categories to help you shop by department for your store, such as Health & Beauty or Stationery.
Searching for specific products – using the site search:
Use the site search function at the top of the page to look for a product by name, or by code (if you already know the Homeware Essentials product code).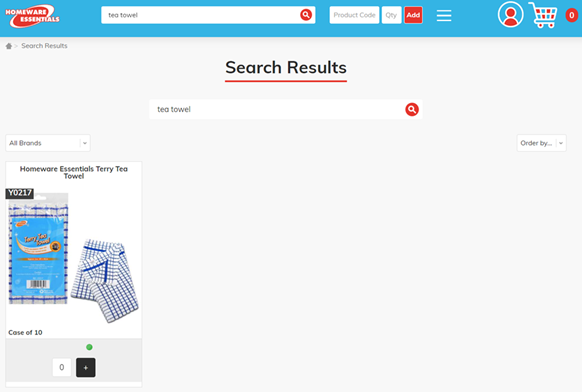 Quick order
We also have a Quick Order function which can be really useful if you already have the Homeware Essentials codes for the stock that you need.
The Quick Order function can be found at the top of the website
Enter the code and then the quantity in the quantity box and click add to place the item/s in your cart

If a product is not found, double check your code, but it is also worth using the search bar function with the name of the product in case the code has been updated since your last order, or the product is discontinued and you would like to see alternatives.


Re-ordering from your order history
It's also possible to place your order by using history from your previous orders. This needs to be done over in your account, you will need to log into your account to see your order history.
We can show you up to 15 months of your order history.
We have a full guide for how this works, which you can view and download here.

Completing your order – Checkout

Click on the Cart trolley symbol at the top of the page
View your order – you can still change quantities on this page, or remove items before check out
Did you forget something? You can still browse other pages on the site and add more items to your cart before you check out
Any information about minimum quantities for free delivery will be available on the cart page
The final step is you proceed to check out and use your chosen payment method of either card payment, or payment via central billing with your symbol group

New Accounts - first time ordering
Direct payment (not via central billing) - Card payment:
If you are an independent retailer who wishes to place your first order with Homeware Essentials, it's very straight forward. When you get to the stage of checking out your order, you will be prompted to set up a new account. For your 'buying group' you need to select 'Independent Retailer'. You will then proceed to card payment for your order to be processed.
Central billing payments Via Symbol Groups:
If you are a member of a symbol group, you have the option to set your new Homeware Essentials account up to be charged via central billing (for the symbol groups we are authorised to do this with). When setting up a new account to go through a symbol group for central billing, this can take a little longer for your initial order to be processed, while we seek authorisation from your symbol group. Most authorisations are straight forward and do not pose any significant delay. We will keep you informed of progress. If you would prefer to pay for your order directly by card when setting up a new account, you will need to select 'Independent Retailer' as your buying group.


Delivery Questions
If you have any questions about delivery, we have lots of information available on our delivery page.

Need some help?
We are here to help, visit our contact page to get in touch and we will get back to you ASAP.